We highly recommend that you explore beyond Siem Reap and the Angkor Temples. Getting from Siem Reap to Phnom Pehn, in Cambodia, is pretty easy and straightforward!
If you want to get from Siem Reap to Phnom Penh (or vice versa), you have
several modes of transport
options to choose from: including
bus, plane, boat, taxi and mini-bus.
Fly from Siem Reap to Phnom Penh
Currently there are three different airlines offering low cost flights from Siem Reap to Phnom Penh.
Whilst the cost of the tickets are low (in our opinion), it is also the most expensive way of getting from Siem Reap to Phnom Penh, but also by far the quickest (45 min flights). Both domestic airports are pretty small.
I think we went through the whole check-in and baggage scan process in about 10 min at Siem Reap. Phnom Penh airport was definitely busier, but I think we were out in about 30 min. Very smooth, no hassles.
Cambodia Angkor Air
We chose to fly with
Cambodia Angkor Air
. This airline has
the best reputation
out of the three airlines you get to choose from, the reviews I read all mentioned that it is the safest flight option as well. We had a really smooth flying experience. No complaints, plane was on time, no issues at all.
You should have a choice between 3 – 6 flight times to choose from, depending on your day of travel.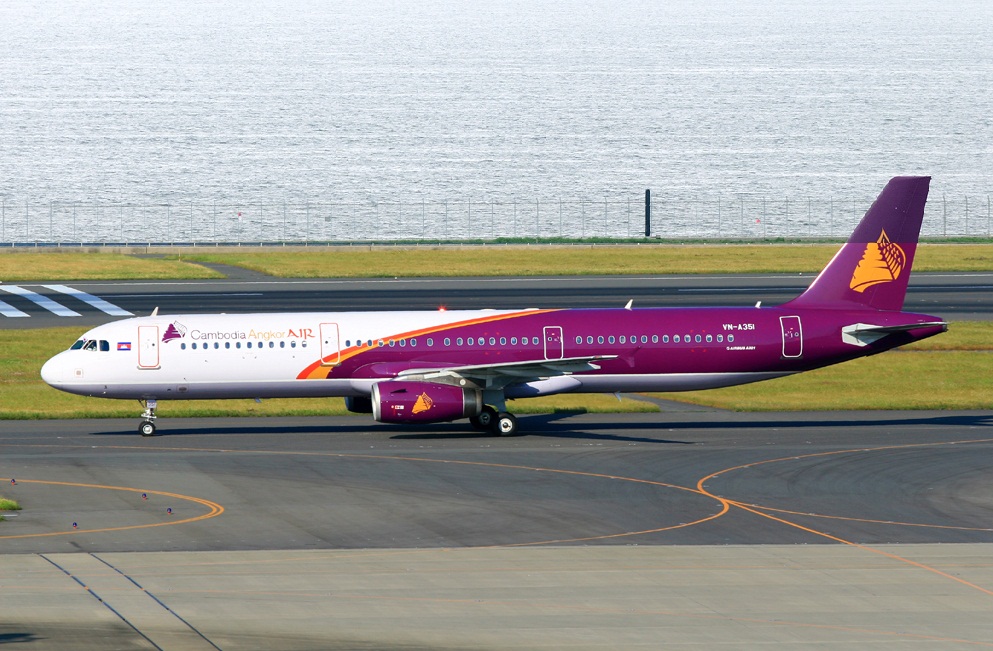 Cambodia Bayon Airlines
Another airline is available and is worth checking out to see how it compares to Angkor Air. It could be hard to find a direct flight on this one and as we didn't fly with this brand, I can't comment on the quality of the flight.
Bassaka Air
Maybe a riskier choice of getting from Phnom Penh to Siem Reap is to choose this newer addition to the choices on offer for flights, Bassaka Air is another cheap option, however rumours that fly around about this carrier made me doubt whether it was the right choice for us as a family.
Siem Reap to Phnom Penh by Bus
Another option of travel is to grab tickets for the Siem Reap to Phnom Penh bus. Whilst we did not use the bus services on this trip, we did give bus travel a tester on a journey from Phnom Penh to Kep later in our holiday.
GIANT IBIS
If you wish to travel from Siem Reap to Phnom Penh, you can expect a journey time of around 5.5-7 hours.
The recommended bus option for this journey of 6.5 hours is definitely Giant Ibis. They are the newest company and base their travels around safety rather than just racing at a ridiculous speed to get from Siem Reap to Phnom Penh.
Giant Ibis runs both day buses as well as night buses and their journeys included a stop for toilet break and food as well.
This bus company offers comfortable reclining seats with seat belts and power outlets to keep your electronics charged up. They widely advertise their WiFi services, however we have seen way to many complaints about WiFi not being available for that claim to be reliable.
Siem Reap to Phnom Penh by Mini-Bus
Mini-buses are convenient as they travel faster than the large coach style buses. They cut the trip short by at least 30 min as they generally take 5-6 hours to get from Siem Reap to Phnom Penh or vice versa. There are loads of companies to choose from here.
Siem Reap to Phnom Penh by Boat
During the dry season (when we were there), the boat from Siem Reap to Phnom Penh are not in operation as the water level is too low, however if you are traveling between July – March you can look into the option of getting from Siem Reap to Phnom Penh by boat.
These boats are geared towards the locals rather than tourists, so expect them to be run-down with no life jackets, you may or may not have access to a seat and from what I've heard they tend to break down a bit too. A great local experience plus some great sights of local Cambodian life around the lake. However if you choose to travel on this boat trip from Siem Reap to Phnom Penh – good luck to you
Source : wanderluststorytellers.com